SHOW DATES – SEPTEMBER 14 – 16, 2023
Quilter's Walk
Quilter's Walk is an opportunity to win a beautiful basket of quilting goodies. Small quilts and other quilt-related treasures may also be included. Donations for the baskets come from show vendors, quilt guilds and individuals. Proceeds are distributed to the Seven Sister guilds to support continuing quilting education and guild activities.
Purchase tickets at the Quilter's Walk section at the quilt show, 50 tickets for $5.  Wander the aisles of Quilter's Walk to choose which baskets you would like to win and add your tickets to the corresponding containers. Bid on as few or as many baskets as you would like! Drawings are held Saturday afternoon. You do not have to be present to win.
Would you like to donate a basket or items to add to a basket being created? Vendors, quilt guilds and individuals are welcome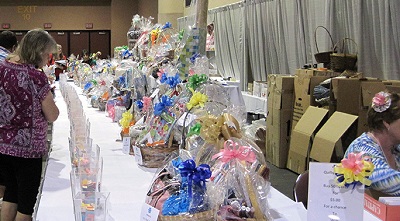 to donate quilting supplies to be placed in a basket and wrapped in clear plastic. We will provide the container if requested.  All who donate basket items by March 1 will have their name listed in the program as a Quilter's Walk sponsor.  For more information, contact the Ways and Means Chair Ellen Cannon – [email protected]
Quilt Sale Table
Does your love for quilts exceed your ability to make them? The Quilt Sale Table has quilts and other quilted items made by members of the Sister guilds. All sizes of quilts are available, from baby quilts and throws, to bed quilts up to king-sized. You might also find unfinished block sets or quilt tops. Credit cards, cash and checks are acceptable for the purchase of quilts and other items from the Quilt Sale Table.
guild opportunity quilts
Each of the Sister guilds will be selling tickets for their guild's 2023 Opportunity Quilt. Tickets to win these quilts may be purchased at the guild tables at the show, where all of these beautiful quilts will be on display. Tickets are also available from any of the guild members prior to the show.  Drawings will be held on Saturday afternoon. You do not have to be present to win.