NEW SHOW DATES – SEPTEMBER 19 – 21, 2024
SILENT AUCTION
For more than 20 years, QuiltFest has hosted a Silent Auction to benefit a local charity.  Dozens of small quilts contributed by guild members and other generous quilters have raised over $25,000 in the last several years alone for this worthy cause.
This year all funds will be donated to Community Pediatric Care.   Peds Care supports Northeast Florida youth with complex, chronic, life-limiting or advance illnesses. They also support the grieving families. 
Don't miss the display of these beautiful small quilts, and beautiful hand created items.  Please  bid on the several you would like to take home. Bidding continues throughout the show, until 3:00 p.m. on Saturday. You need not be present to win.
For more information or to donate a quilt, contact the Silent Auction Chair here.
A heartfelt "Thank You", for the beautiful donations to the Silent Auction! 
The Quiltfest Silent Auction is accepting small wall hangings, doll quilts,  and pillow covers(new) that meet the following guidlines:
Size: Equal or less than 24 inches on any side
Note: Orphan blocks or single blocks do not do well in this auction.
Beautifully and professionally crafted items. 
For more information: https://www.community hospice.com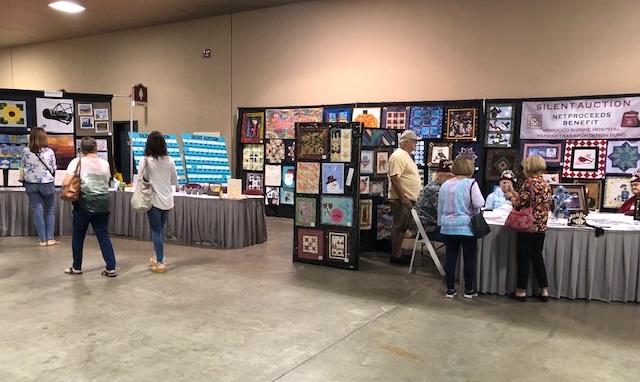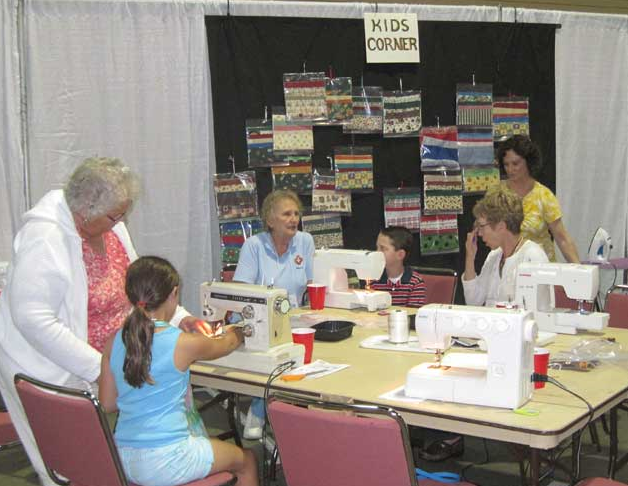 kids corner
Is there a young wannabe quilter in your life? Bring them over to the Kids' Corner where they can learn the basics of using a sewing machine and complete a small quilting project to carry home. Each child receives individual instruction from volunteers among our Sister guild members.
ME DOLLS
Have a seat during your visit to the show and help stuff Me Dolls. Me Dolls are simple muslin dolls given to patients to use for locating the "hurt" areas, and for doctors to use in explaining the child's surgery or treatment. The dolls are made without facial features, allowing each child who receives a doll the opportunity to draw a face on it. Me Dolls are delivered to Nemours Children's Specialty Care and Wolfson Children's Hospital in Jacksonville, and Nemours Children's Hospital in Orlando. Members of our quilt guilds and show attendees have been sewing and donating Me Dolls since 2005.
PILLOWCASES
Join fellow quilters in another sit and sew opportunity! The past few years we have supported Ryan's Case For Smiles, whose goal is to provide children with cheery pillowcases to brighten their hospital stay. Over the years, Ryan's Case has delivered two million (and counting!) pillowcases throughout the country.